Description
Reviews (0)
Espresso machine cleaner
Regular cleaning and care of your espresso machine is important because coffee contains oils that escape during extraction and contaminate the brew group and portafilter. Our espresso machine cleaner and coffee grease remover is a real miracle product for portafilter machines. Made from biodegradable ingredients, it is gentle on the material, dissolves completely and is more effective than commercially available cleaning tablets or cleaning powders. The composition does not contain any solvents or phosphates. We have also been using the cleaner on our portafilter machines for years. The cleaner can be used for all single- and dual-circuit machines with a return valve or solenoid valve and fully automatic coffee machines.
Fast cleaning
The application is quick and uncomplicated. Simply clean the brew group, spray the cleaner with the spray head directly into the blind cap (portafilter), clamp the portafilter in place and switch on the coffee draw or rinse the return. Repeat the process if necessary. Then the brew group only needs to be rinsed 3-4 times with water in the blind sieve until the water is clear again. You can also use the cleaner to clean the filter in the filter holder. Simply remove it, spray it, place it in water and carefully wipe off any dirt.
Details
Espresso machine cleaner and coffee grease remover
For commercial and commercially available espresso machines (dual-circuit machines)
Also suitable for coffee machines and single-circuit machines with return or solenoid valve
Biodegradable according to EU guidelines, contains no phosphates or solvents
Quick and uncomplicated application
Filling quantity: 500ml spray bottle
Delivery quantity: Cleaner incl. spray attachment and short application description
Deine Meinung ist uns wichtig!
Schreibe eine Bewertung zu diesem Artikel und teile deine Meinung mit anderen Kunden.
Deine E-Mail-Adresse wird nicht veröffentlicht.
Durchschnittliche Kundenbewerbung
Your opinion is important to us!
Write a review about this product and share your opinion with other customers.
Your email address will not be published.
Average customer evaluation
Only logged in customers who have purchased this product may leave a review.
Service & Beratung
Gerne beraten wir Dich auch telefonisch rund um unsere Kaffees, Schulungen und Produkte.
Für ein Beratungsgespräch vor Ort bitten wir Dich, einen Termin mit uns zu vereinbaren.
+49 30 4050 1650
Telefonzeiten Montag - Freitag (10:00 - 18-00 Uhr)
Service & Support
We're happy to advise you by phone about our coffees, trainings and products.
For an on-site consultation, we ask you to make an appointment with us.

+49 30 4050 1650
Phone Hours Monday - Friday (10:00 am - 6:00 pm)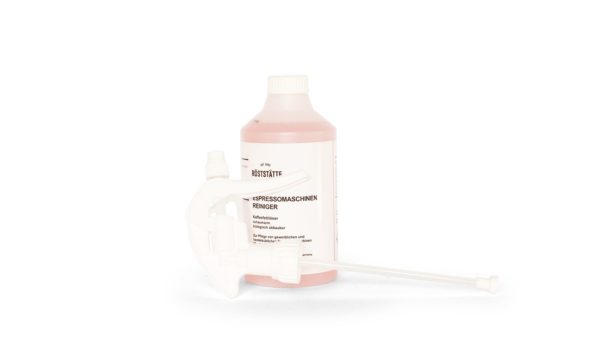 You're viewing: Espresso machine cleaner
14,50

€
Details