Ready, Steady, Brew
EN
Mit Mengenbrüher Kaffeemaschinen von Bunn bieten wir Euch eine Auswahl vollautomatisierter Batch-Brewer für die Verwendung in der Gastronomie oder im Büro an. Lass Dich von uns beraten - für höchsten Kaffeegenuss.
Die Präzisionsbrüh- und Schnellfiltersysteme von Bunn ermöglichen es ganz einfach Filterkaffee auf Knopfdruck zubereiten zu können. Je nach Modell können verschiedene Brühprofile je nach Röstung und Kaffeesorte programmiert werden. Ob im Frühstücksbereich, im Café oder im Office. Frisch aufgebrühter Filterkaffee hat zahlreiche Einsatzgebiete. Mit einem auf den Bedarf zurecht geschnürten Equipment- und Servicepaket und schonend gerösteten Kaffee lassen sich echte Mehrwerte für Gäste und Mitarbeiter schaffen.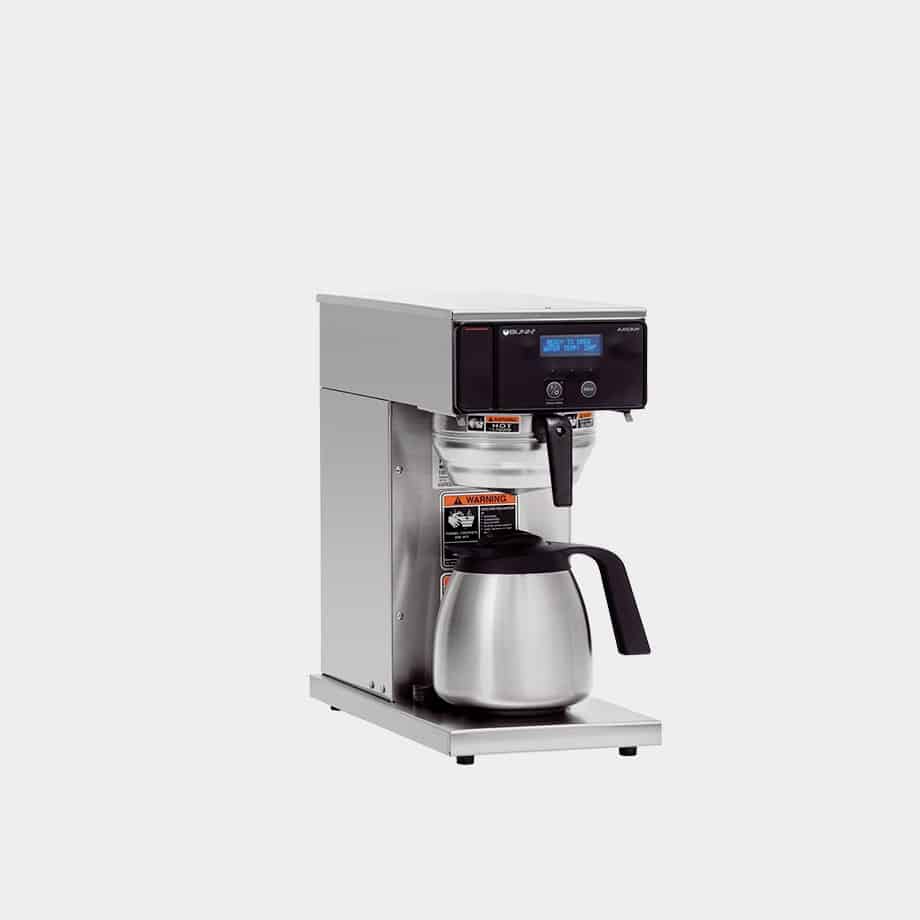 Axiom TC
Brüht direkt in die 1,9 Liter Karaffe mit BrewLOGIC®-Technologie um die Durchflussrate und die Brühzeit anzupassen. Kontrollierte Extraktion mit mit programmierbarer Pre-Infusion, Pulse-Brew und digitaler Temperaturregelung.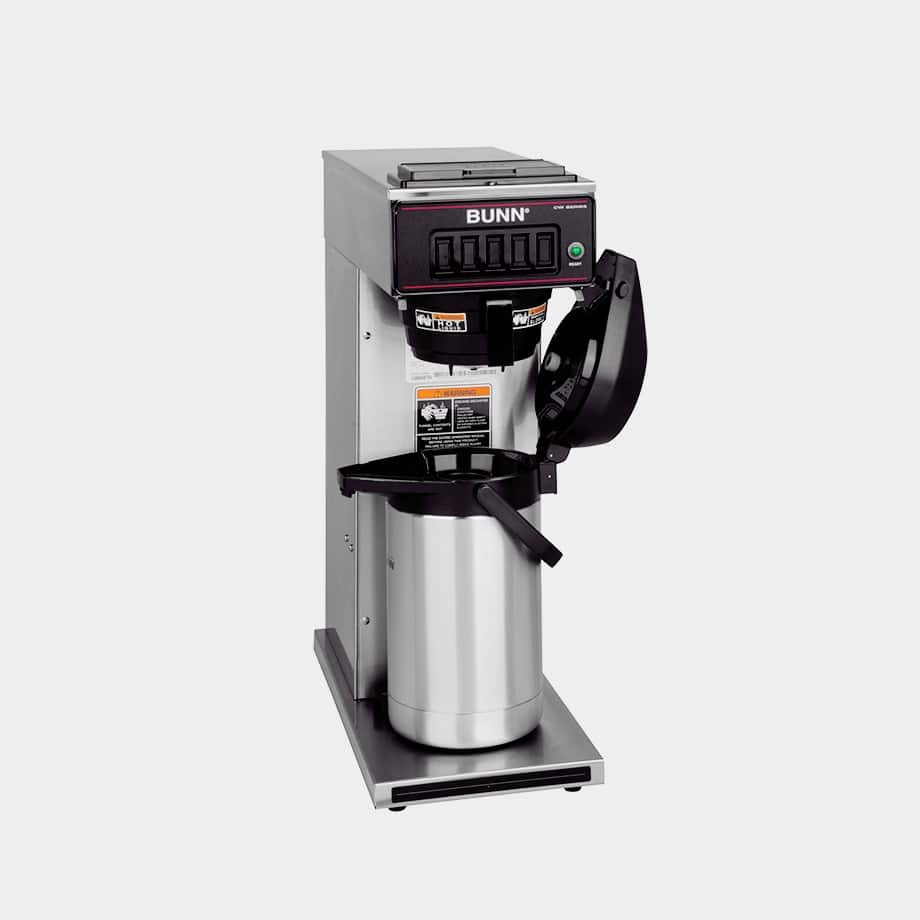 Pourover Airpot
Der Filterkaffee wird direkt in 1,9 oder 3 Liter-Airpots (separat erhältlich) gebrüht, um den Kaffee im benötigten Raum heiß und frisch zu halten. Die Filterkaffeemaschine ist in der Lage, bis zu 98 Tassen pro Stunde zu brühen.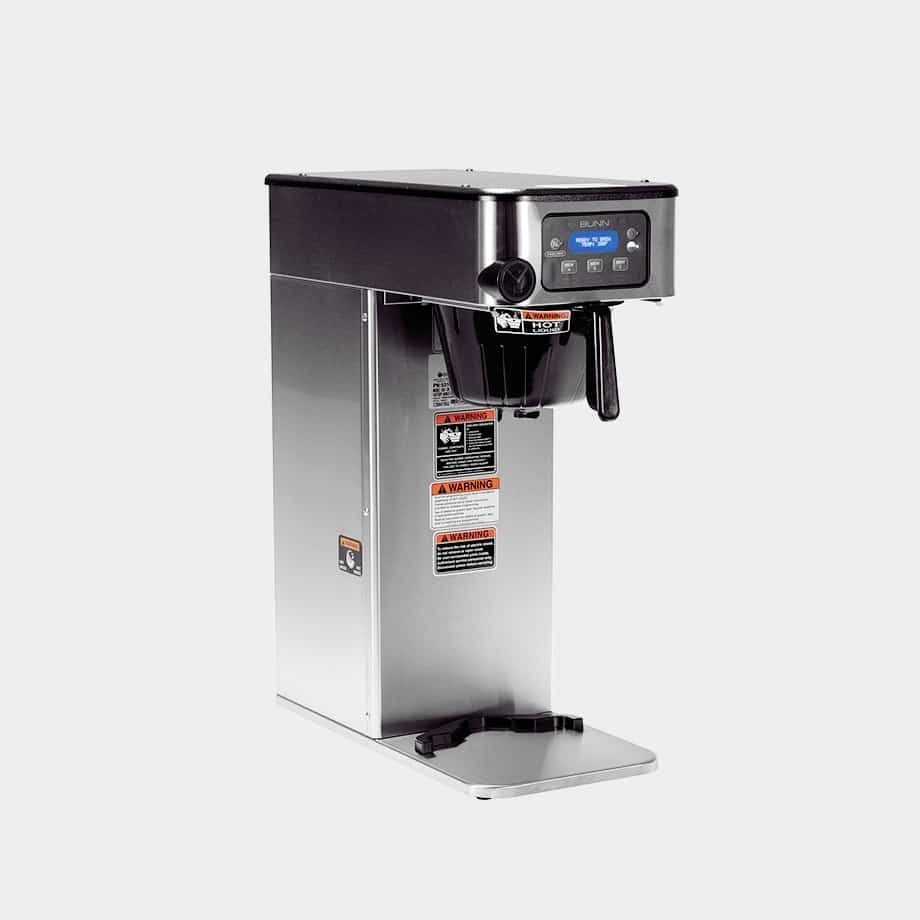 Infusion Coffee Brewer 3.0
State of the art im automatisierten Filterkaffee brühen für mittlere bis große Brühmengen. Drei Buttons ermöglichen eine Vielzahl von Brührezepten. Die ICB ist mit zahlreichen Features wie einem Peak-Extraction-Sprayhead ausgestattet.
Bunn Infusion Series
Optimal für größere Brühmengen eignet sich die Infusion Serie von Bunn.
Der Infusion Coffee Brewer und die G9WD Mühle von Bunn können drahtlos
miteinander kommunizieren und voreingestellte Brührezepte liefern.
Mit dem Infusion Coffee Brewer und der G9WD Mühle von Bunn wird ein Optimum an Flexibilität erreicht. Die ICB brüht innerhalb von wenigen Minuten 2, 4 oder 6 Liter in einem Brühvorgang. Mühle und Brühsystem können drahtlos kommunizieren um die voreingestellte Menge zu mahlen und zu brühen. Das Aroma und die Temperatur des Kaffees bleiben über mehrere Stunden frisch.
Verschiedene Features machen die ICB zu einem unverzichtbaren Tool für Filterkaffee auf Knopfdruck verschiedenster gastronomischer Bereiche. Von der Brew Bar im Coffee Shop bis zum Frühstücksbereich im Hotel. Die ICB verfügt einen Peak Extraction Sprühkopf um eine ultimative Gleichmäßigkeit der Extraktion zu gewährleisten. Die Bedienung erfolgt über das mehrsprachige Digitaldisplay.



Jetzt Angebot einholen